Rachaels Split pea and ham soup. Use leftover ham to make split pea soup prep even easier. You'll turn to this split pea soup with ham all winter long. Split Pea Soup can be made using a leftover ham bone.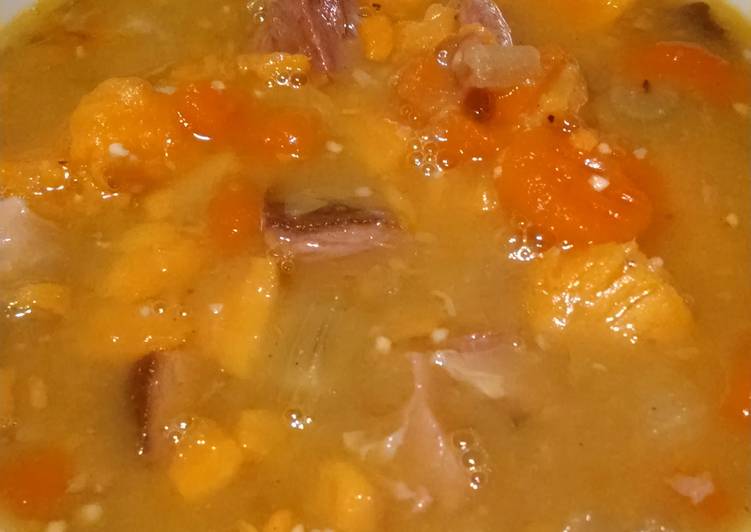 When I want Split Pea Soup, this is the recipe I crave! Made with ham hocks or leftover ham, this is so delicious and freezes well. To freeze pea soup, let the soup cool then transfer to freezer safe containers in portions and label the soup with the date and time. You can have Rachaels Split pea and ham soup using 7 ingredients and 3 steps. Here is how you achieve that.
Ingredients of Rachaels Split pea and ham soup
You need of dry split peas.
You need of ham bone with scraps.
It's of celery (chopped).
Prepare of cubed sweet potato.
You need of carrots.
You need of onion.
You need of chopped garlic.
If it's too thick, just add a bit more water before you add the ham. Slow and steady wins the race with this split pea soup. The reward is a bounty of freezer meals your future self will thank you for. Discard the bone and any fat.
Rachaels Split pea and ham soup step by step
Pour the split peas in a pot with 2 quarts of water, bring to a boil then reduce to a simmer until they are softened. (the amount of water can change with the size of your bag of peas so you should cook according to what your directions suggest).
In a separate pot bring the ham bone and scraps, celery tops and bottoms, onion chopped in half, garlic and carrot scraps to a boil in 2 1/2 quarts of water..
After about an hour and a half strain the broth pot and add it to the split pea pot and mix in remaining ingredients. If you want extra ham you can add some now. Cook until thickened and the veggies are cooked through. (about another 45 minute).
This split pea soup recipe is adapted from one written by Julia Child years ago for a Parade Magazine article. Purchased split peas at Whole Foods- out of dispenser (not pre-packaged) and they cooked perfectly, in accordance with recipe. In a large dutch oven or soup pot, heat the EVOO over medium heat. Homemade Split Pea Soup, just like mom made growing up! This hearty, protein packed, comforting soup is made with tender split peas, flavorful ham and fresh vegetables.