Green beans with Garlic-flaxseed breadcrumbs. In a pot, steam the green beans until tender-crisp. Heat the olive oil in a large saute on medium-low heat. Again, be careful not to burn.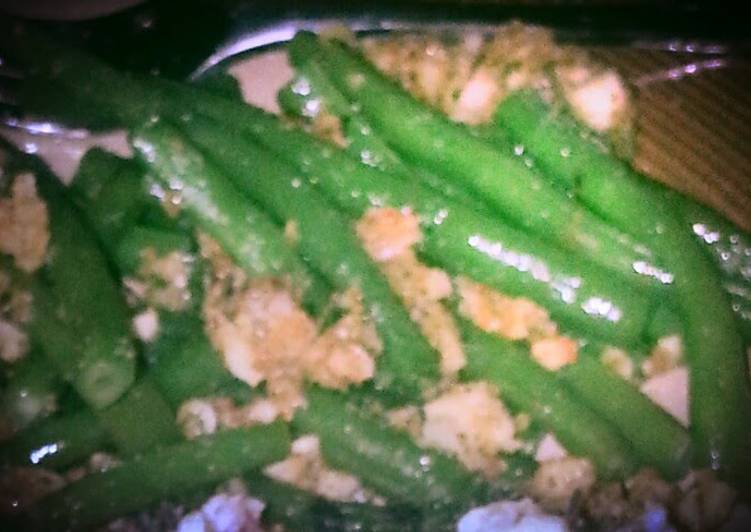 Cooked green beans are tossed with garlic powder, bread crumbs, olive oil, oregano and basil, and given a fine sprinkling of Parmesan cheese. All Reviews for Green Beans with Bread Crumbs. Next I put the whole thing in a baking dish sprinkled it with more breadcrumbs & parmesan and put it. You can have Green beans with Garlic-flaxseed breadcrumbs using 10 ingredients and 5 steps. Here is how you cook it.
Ingredients of Green beans with Garlic-flaxseed breadcrumbs
It's of green beans.
You need of butter, softened.
Prepare of Breadcrumbs.
You need of garlic, chopped.
You need of dried parsley flakes.
You need of Extra virgin olive oil.
Prepare of flaxseeds, ground.
You need of onion powder.
You need of oregano, dried.
Prepare of salt.
Green beans with breadcrumbs, almonds and garlic is a simple, healthy and tasty veggie side dish - a big improvement over plain steamed green beans! The garlic is optional, so use it if you like it. I've made this recipe with and without garlic, but I like it better with. Next, add the green beans that.
Green beans with Garlic-flaxseed breadcrumbs instructions
Clean green beans and add to boiling water for about 8 minutes.
Preheat oven to 400°F. In small bowl, mix butter, garlic, parsley, flax seed, oregano, onion powder, salt and breadcrumbs..
Drain beans, shake out on baking sheet, and drizzle olive oil. Shake to coat beans evenly with oil..
Take crumb mixture and spread over beans, mixing together with spoon to coat beans..
Bake in oven at 400°F for approximately 6-8 minutes, until breading is slightly toasted and garlic is cooked..
In this easy green bean recipe, browning the butter before tossing it with the breadcrumbs produces a nice nutty flavor. Serve this green bean dish as Meanwhile, heat butter in a large skillet over medium heat. Add garlic and cook, stirring, until. Roasted Green Beans tossed with garlic, sprinkled with breadcrumbs and parmesan, then roasted OR broiled/grilled until the parmesan is golden and the green beans are tender crisp. You'll love how these are crispy yet juicy, savoury and salty…. but the crowning glory is how the topping ends up like.